The Bhimtal region has 3 beautiful lakes – Bhimtal, Sat Tal, and Naukuchiatal. Tourists frequently visit these lakes to enjoy boating and fishing. A boat ride to Bhimtal Island is certainly a wonderful experience. There is also an aquarium on the island that is awe-inspiring.
The Bhimtal and Naukuchaital lakes are the major attraction for tourists traveling to Nainital. The location around the lake is very soothing and scenic. Anyone would love to enjoy some time over there in peace while observing the beauty of nature and listening to the flowing waters.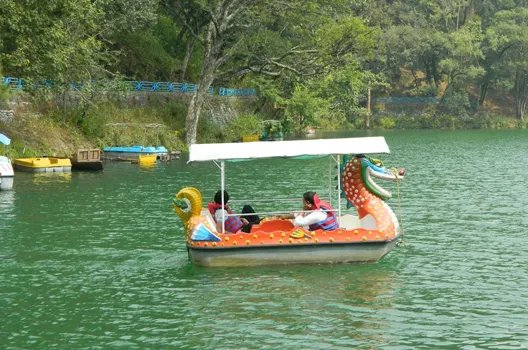 Bhimtal Lake
 Bhimtal Lake is spread across 63.25 hectares of area. A boating facility is also available on this lake. One boat can carry 4 members at a time. When it is spring and autumn, bird watching is also prevalent near the lake. Boating in this lake provides you a chance to visit the aquarium built on the small island in the center of the beautiful lake.
Naukuchaital Lake
Local legend says that anyone who can spot the nine corners of 'Nau-kuchia-tal' at once finds their way to heaven. People say that the lake was created by Lord Brahma and if you do a parikrama around the lake, it is considered sacred. Boating in Naukuchiatal is bewitching, especially if you do so in the early morning or afternoon. You can take a break on the journey, rest your boat by the edge of the lake, or in the middle to get the relaxing vibe. The lake provides a chance to experience boating in different kinds including kayaking, paddle boat, and also with a boat guide.
Missing out on the chance to experience this amazing activity can mean missing out on a lot of fun and adventure. This is an activity that gives you a thrill and relaxation at the same time.