Mukteshwar, previously known as Muktesar, is a popular tourist destination in the Nainital District of Uttarakhand. The beautiful village is located 51 km from Nainital, 72 km from Haldwani, and around 343 km from Delhi.
The small town got its name from the 350-year-old famous temple of Lord Shiva built in the village known as Mukteshwar Dham built at the highest point of the town. There are many waterfalls in this town and you can enjoy a 180-degree view of the Nanda Devi and the majestic Himalayan range from here. Once, Edward James Corbett or popularly known as Jim Corbett came here for shooting a tiger, and he fell in love with the unparalleled beauty of the place. Mukteshwar is a place where you come with your family or friends and even on a honeymoon trip.
Best Time to Visit Mukteshwar
Summer: From March to May, Mukteshwar exudes a unique charm as temperatures rise to around 27°C. The summer season makes this town a highly recommended destination.
Monsoon: Mukteshwar experiences heavy rainfall from July to September, leading to the possibility of roadblocks. Checking the weather forecast is advised, and visiting during this season might be best avoided.
Winter: If you plan to visit Mukteshwar in winter, make sure to bring along warm clothing. Temperatures range between 17°C and 3°C. The sight of snow-capped mountains, as you explore the town, adds to its allure. Given the snowy conditions, checking the weather forecast before your visit is recommended. If you love snow, then you should definitely come here during the months of October to March.
How to reach Mukteshwar?
By Road:
From Delhi: Mukteshwar is approximately 350 kilometers away from Delhi. You can drive or take a bus from Delhi to Mukteshwar. The journey takes around 8-10 hours, depending on traffic and road conditions. You'll pass through Haldwani and Bhimtal on the way.
By Train:
The nearest railway station to Mukteshwar is Kathgodam, which connects it to major cities of the country like Delhi, Kolkata, and Lucknow.
From Kathgodam, you can hire a taxi or take a bus to Mukteshwar, which is around 65 kilometers away. The drive takes about 2-3 hours, depending on the route you take.
By Air:
The nearest airport to Mukteshwar is Pantnagar Airport, located around 100 kilometers away. However, this airport has limited flight options.
Local Transportation:
Once you reach Mukteshwar, you can hire local taxis or use shared cabs for getting around the town and exploring nearby attractions.
Places to visit in Mukteshwar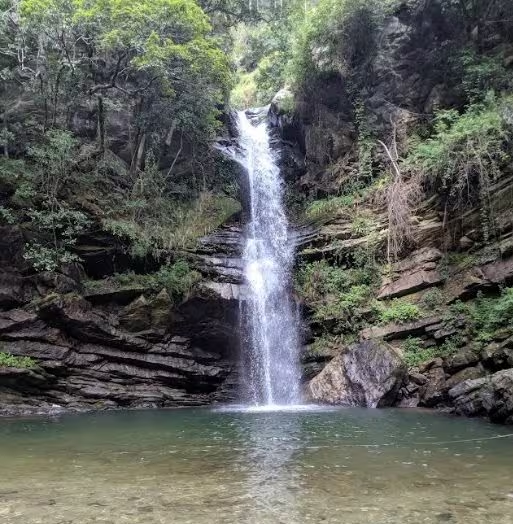 Bhalu Gaad Waterfalls:
A picturesque waterfall surrounded by lush greenery offers a peaceful and refreshing atmosphere. It's a great spot to relax and enjoy the natural beauty.
Chauli Ki Jali:
A natural rock formation with breathtaking panoramic views. Chauli Ki Jali has great mythological significance and offers stunning vistas of the Himalayas.
Mukteshwar Dham:
Also known as Mukteshwar Temple, it's a sacred Hindu temple dedicated to Lord Shiva. The temple's location atop a hill provides visitors with panoramic views of the surrounding area.
Indian Veterinary Research Institute:
The IVRI campus houses a museum that showcases the history of veterinary research and its importance. It can be an interesting visit for those interested in scientific and research endeavors.
Jain Mandir Mukteshwar:
This temple holds significance for the Jain community. It offers a spiritual atmosphere and intricate architectural details.
Tarikhet Waterfalls:
Tarikhet Waterfalls is another natural attraction worth exploring. The cascading water and surrounding landscapes create a serene setting.
Rudradhari Waterfall:
Situated in Kumaon, this waterfall is known for its scenic beauty. It's a great place for nature enthusiasts and trekkers.
Dhokaney Waterfall:
Dhokaney Waterfall is yet another waterfall that adds to the region's natural charm. It's a good spot for those who enjoy hiking and outdoor activities.
Ramgarh:
While not on your list, Ramgarh is a nearby destination that has orchards and fruit cultivation where you can visit to get a glimpse. It offers a peaceful environment and stunning vistas.